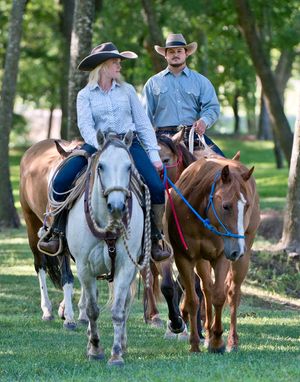 "

It's not a great trainer who can cause a horse to perform; a great trainer will cause a horse to want to perform."
— Monty Roberts
CowPunch Ponies Natural Horsemanship
CowPunch Ponies is a Natural Horsemanship-based horse training company in Catron County, New Mexico. We have experience with yearlings, colt starting, ranch horse versatility, tune ups, problem horses, mules, zebras, trail ride hosting, and clinics. 
"CowPunch Ponies was SO easy to work with! They were accommodating, understanding, and HONEST! These guys are the REAL DEAL." -Rich M. 
"Mik and Brody are both amazing trainers. So far they have trained three of our horses and we have more scheduled to go to them. I will never send another one of our horses to anyone else!"- Liz R. 
"...the horses I got back were beyond recognition and the best money that I have EVER spent. Horses are Brody and Mik's life and they are so knowledgable, talented, compassionate and some of the best all around people that I've ever met..."-Alex A. 
"I HIGHLY recommend these two individuals for horse training and will use them again if they have the time! They stay really booked up, and that says a lot on it's own about their training."-Jube O. 
We start in snaffles and ride with soft hands and verbal cues. We utilize natural horsemanship and vaquero methods influenced by Ray Hunt and Tom Dorrance.
We spend an average of 12 hours per day horseback, surpassing most trainers' time spent in the saddle by a Texas mile. We believe that time, miles, patience, repetition, and commitment are crucial to the making of a solid ranch horse, and the amount of hours we invest in each horse is hard to find other places! 
"At 9, our mare had potential but not near enough 'wet saddle blankets'. She is now one hundred percent better and my [special needs] daughter didn't have to ride exactly like them to get results! Sending another horse, SOON!" -Locke L. 
We train because we love it. With the understanding that every horse is different, we hold our equine-in-training to high standards and build confidence, balance, trust, and a good relationship with them in effort to help them discover a confidence in themselves. 
We don't "break" horses…we build them!
"

Treat a horse like a gentleman..."
— Roy Rogers